CyberKnife Center of Miami
Radiation Treatment for
Prostate Cancer at
CyberKnife Miami
When Choosing CyberKnife Miami, you're getting one of the most advanced cancer treatments available with one of the most experienced CyberKnife teams. CyberKnife is not a surgical procedure, it is a form of Radiotherapy known as Stereotactic Body Radiation Therapy (SBRT). CyberKnife delivers high doses of radiation with pinpoint accuracy, leaving healthy surrounding tissue virtually unharmed. 

Covered by most insurance companies
For prostate cancer treatment, CyberKnife is fast becoming the treatment of choice and is covered by the vast majority of insurance companies, plus Medicare and Medicaid.

Thousands of Prostate Cancer Patients With Excellent Results
With CyberKnife SBRT, prostate cancer treatment typically requires 5 treatments
compared to 42 treatments with standard radiation therapy.
Study results involving thousands of patients validates its effectiveness for prostate cancer and found that 98 percent of patients followed for over 12 years remained cancer-free throughout that time.
Lower Risk Of
Side Effects
CyberKnife tracks even the slightest movement of the tumor site being treated, greatly reducing side effects like urinary incontinence and erectile dysfunction.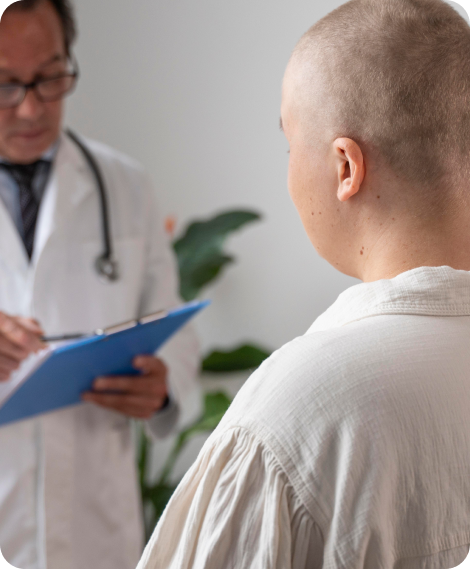 Maintain High Quality of Life During Treatment
Only 5 CyberKnife treatments with few, if any side effects, allows patients to maintain quality of life with the least disruption to their lives while undergoing treatment.

We Care About you and Your Family
Our compassionate team will hold your hand through every step of your treatment. We put patients and their families first, making the process as easy as possible. 
Why Choose CyberKnife?
The
Benefits

of CyberKnife Cancer Treatment

CyberKnife radiosurgery is a minimally-invasive alternative cancer treatment.

CyberKnife is covered by most major insurances, allowing patients easy access to treatment.

CyberKnife uses targeted radiation where you need it, is an easy procedure with minimal side-effects.

Using targeted radiation allows for better outcomes, with up to a 98% success rate.
Dr. Mark Pomper
Medical Director at CyberKnife Miami
"Research proves CyberKnife is as effective as standard radiation

using 5 treatments instead of 42

with few if any side effects."

Hear From the Top CyberKnife
Doctor in Miami, FL