Cyberknife will have a lot of fans at the Kentucky Derby. Including cancer survivors who were treated with non-invasive CyberKnife Radiation Therapy, just like Cyberknife's owner, Al Gold was a year ago for prostate cancer.
"Of course, you've got to bet on him (Cyberknife)," said Stacy McCaslin. "I mean, you just have to."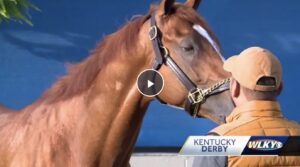 Stacy McCaslin is one of three cancer survivors who were at Churchill Downs to watch Cyberknife on the track. The other two are Vivian Wilson and Bennie Jones.
"To be this close and see the horses, it's a fantastic experience," Jones said. "It's almost as good as the CyberKnife experience."
Al Gold named his best race horse Cyberknife to help make people aware of the robotic cancer treatment technology.
"You get cancer, you get the CyberKnife treatment and you're done (better)," said Gold.
The three Kentucky residents who also had CyberKnife treatment were thrilled to hang with Cyberknife the race horse at the track.
"I was diagnosed back in 2012," said Wilson. "And went to another hospital. And the treatments weren't working. So, I got a second opinion and went with CyberKnife and here I am today."
U of L Health and the Brown Cancer Center's director of radiation oncology Dr. Neal Dunlap said the CyberKnife technology pinpoints radiation directly to tumors and spares a lot of the normal tissues around a person's body.
"We want to be more like a surgeon, where we can pinpoint things and just deal with the tumor and try to protect the rest of a person's body," Dunlap said. "The goal of cancer treatment is to cure your cancer, but get you back living your life as quickly as possible."
That's what the survivors are doing – living life.
"This gets the name (Cyberknife) out to everybody," Bennie Jones said. "I mean, who doesn't watch the Derby?"
Cyberknife is trained by Louisville native Brad Cox, the defending Kentucky Derby winner with Mandaloun, and will be ridden by Florent Geroux, who was on Mandaloun during last year's Derby.
The following is more information from U of L Health on the three survivors visiting the track on Thursday:
Stacy McCaslin of Bullitt County was diagnosed with neuroendocrine carcinoma in August of 2020 after feeling pain on her side. The cancer was in her lungs and affecting her nerves. In December 2020, she went through 8 to 10 rounds of radiation using the CyberKnife machine. Each session lasted 30 minutes or less. She's now in remission, and follows up at the Brown Cancer Center every three months.
Vivian Wilson of Louisville was diagnosed with adenocarcinoma non-small cell lung cancer, the most common type of lung cancer, in September 2012. While in the hospital, she found out it had spread to her brain. Wilson had surgery and radiation for the brain tumors and three doses of chemotherapy for her lung cancer. In 2013, she realized the tumor grew and was given six months to live. Then she heard about CyberKnife. Her first treatment was in April of 2013. It lasted 45 minutes to an hour. She was treated with CyberKnife again in August and December of 2013. The December treatment was her last. Her MRI scans went from three months, to six months, to once a year, and now only every two years.
Bennie Jones of Pikeville, Kentucky was diagnosed with prostate cancer in October 2020 after routine lab work revealed some concerning numbers. After he was diagnosed, a hospital closer to home was offering 37 treatments of radiation. He did some research and came across CyberKnife at the Brown Cancer Center, which required only 5 treatments. He chose CyberKnife. Each appointment lasted only 20 minutes or so. He's now at a healthy PSA (Prostate-Specific Antigen) and does follow-ups every six months.
For information on CyberKnife technology and how it can help you beat cancer contact the CyberKnife Center of Miami at 305-279-2900.
Click the link to see their story that aired on WLKY in Louisville, KY
https://www.wlky.com/article/cancer-survivors-pulling-for-cyberknife-in-saturdays-kentucky-derby/39919025