Prostate Cancer Awareness Month isn't until September, but race horse owner Al Gold will be giving the world a head start learning about the non-invasive treatment option, CyberKnife Therapy this Saturday during the Kentucky Derby when his horse Cyberknife runs for the roses.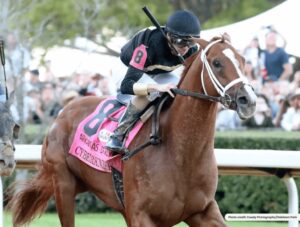 Named after Accuray Inc's robotic radiation therapy used to successfully treat the 66-year-old's prostate cancer, Gold's Cyberknife (Gun Runner) continues to generate plenty of positive chatter leading up to the Kentucky Derby at Churchill Downs Saturday May 7th. The race will air on NBC and post time is 6:57pm Eastern Time.
Gold says, "At the end of the day, the Derby is exciting and very important, but it pales in comparison to helping people become aware of the power of CyberKnife in treating cancer. That's why I've done a lot of interviews about it. I'd like to get it out there so people know."
Gold, now in remission is enjoying life as a retired person while splitting time between his homes Saratoga Springs, N.Y. and Del Ray Beach, FL. Al received his first CyberKnife treatment on his 65th birthday last year. With the non-invasive procedure there's no incision involved despite the name. It's specifically designed to deliver radiation beams from hundreds of angles, while targeting only the tumor, minimizing radiation doses to healthy surrounding tissue.
"When someone tells you that you have cancer, it gives you fear and obviously makes you very nervous," Gold said. "But this was such an easy procedure to get through–five, 18-minute treatments every other day and it was over. It's a wonderful thing. A lot of people have died from prostate cancer, but now it's easily diagnosed and treated."
Trained by Brad Cox and always held in high regard, the four-legged Cyberknife has certainly done his part to help spread the word as well. Still learning the ropes while sixth in the GIII Lecomte S., the chestnut has put it all together in two subsequent starts. He punched his ticket to Louisville with a breakthrough win in the GI Arkansas Derby, the first ever at the top level for Gold.
Hailing from the first crop of sensational young sire Gun Runner, Cyberknife brought $400,000 from advisor Joe Hardoon on behalf of Gold at the 2020 Fasig-Tipton Selected Yearlings Showcase. Bred in Kentucky by Ken and Sarah Ramsey, Cyberknife is out of six-time stakes winner and multiple graded placed Awesome Flower (Flower Alley). He hails from the family of G1 Dubai World Cup winner Well Armed (Tiznow).
"I had been in five or six Grade I races before and never hit the board, so I was cautiously optimistic going in [to the Arkansas Derby]," said Gold, who made his living in real estate management. "He ran beautifully and won the race. I had quality horses that I thought were going to be Derby potential, but it never materialized. Now, we're all excited about going to Kentucky."
Racing under the nom-de-course of Gold Square LLC since 2004, Gold and his wife Hilary have also campaigned graded winners Chace City (Carson City) and Little Miss Holly (Maria's Mon). The native of New Jersey has approximately 15-20 horses in training, including a pair of recent OBS Spring acquisitions–a $220,000 Awesome Slew filly and a $140,000 Kantharos colt. In addition to Cox, Gold also employs trainers Jorge Abreu, Steve Asmussen, Tony Dutrow and Chad Summers.
"You want to keep pursuing your passion and what you love in life," Gold concluded. "I've had some good horses and some bad horses, but you have to just keep on trying to get to the point where I am now. Hopefully, I'm building a quality stable and I'm going to the Kentucky Derby. What else can I ask for? This is the height of the game."
It's no secret that CyberKnife Miami's favorite Kentucky Derby entrant is "Cyberknife." Like the non-invasive radiotherapy system for which he was named, this beautiful colt has an impressive speed and an unrelenting focus on the target. Winning the Derby!
For information on prostate cancer treatment with CyberKnife call our experts and top CyberKnife Doctors in Miami at the CyberKnife Center of Miami at 305-279-2900