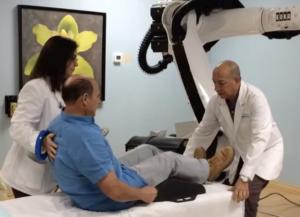 Yet Another New Large Study Reveals Long-Term Outcomes are
Excellent
for Prostate Cancer Patients Treated with High Dose, Short Term Radiation Therapy Like CyberKnife Radiotherapy, Proving Once Again it Should Become Standard Treatment for Many Prostate Cancer Patients!
The nationwide study examined the popular radiation treatment known as SBRT, Stereotactic Body Radiotherapy for prostate cancer, such as CyberKnife.
This treatment is becoming even more popular because it's effective and done much faster, causing the least disruption to patients lives, plus it has few if any side effects, such as erectile dysfunction and incontinence.
The study confirms, CyberKnife or as it's also known, SBRT delivers a high dose of therapy in a very short time frame, supporting its routine use. It requires 5 treatment sessions over 10 days vs. 42 treatments over several months with other types of radiation therapy, and a big bonus, there is no downtime like with prostate cancer surgery or risk of infection.
The study, conducted at cancer centers around the United States looked at long term follow up data for stereotactic body radiotherapy (SBRT) used to treat more than 2,100 men with prostate cancer that had a low or intermediate risk of recurring.
The results were published in the medical journal JAMA.
CyberKnife, delivers high doses of radiation with pinpoint accuracy directly to the tumor site, which minimizes damage to healthy surrounding tissue and nearby vital organs.
Dr. Pomper says, "CyberKnife not only cures cancer, you maintain your quality of life before, during and after treatment. Side effects, including impotence, can occur with all treatments for prostate cancer and can happen years after treatment, but are much less likely with CyberKnife." He adds, "While it is necessary to observe these men for decades after SBRT treatment, this seven-year data and even longer follow up studies going out 12 years or more, prove that survival and side effects are comparable to other forms of radiotherapy and/or surgery."
The National Comprehensive Cancer Network, which establishes cancer treatment guidelines, classified SBRT as an alternative to conventional therapy, but had noted a lack of long term follow up data.
And no doubt there is much more experience with conventionally fractionated radiation therapy, delivered five times a week for up to nine weeks, and brachytherapy, in which radioactive seeds are implanted in the prostate, but Dr. Pomper says, "These findings give us even more great confidence that CyberKnife should become a standard option for some men who want to avoid the hassle and inconvenience of standard therapy."
It's your life. Make the call today and find out if we can help you get cancer treatment behind you effectively, safely and quickly.
We can set up your consultation as soon as you are ready, and treatment plan started ASAP 305-279-2900.
We are the Cyberknife Center of Miami – The Beam Of Life
Go to our
YouTube Channel
to see more videos on how we treat prostate cancer and all kinds of tumors including metastatic and primary.