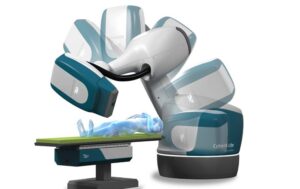 Data from the randomized, multicenter trial PACE-A (PACE – Prostate Advances in Comparative Evidence) indicates that stereotactic body radiation therapy (SBRT), in comparison to surgery, better preserves urinary continence and sexual function in men with localized prostate cancer.
The study, which was led by The Royal Marsden NHS Foundation Trust and The Institute of Cancer Research, London, is being presented during an oral session at the American Society of Clinical Oncology Genitourinary Cancers Symposium (ASCO GU) in San Francisco, California.  The results were announced by Accuray, manufacturer of the CyberKnife System used in the trial.
123 men from 10 UK centers were enrolled in the trial, with 59 ultimately treated with SBRT and 50 with surgery. An analysis of patient reported outcomes found that at two years, significantly fewer patients (4.5%) treated with SBRT reported needing to use urinary pads, which manage urinary incontinence, compared with surgery (47%).
At two years, 44 of those treated with SBRT and 32 of those treated with surgery responded to this query, with two of the SBRT cohort and 15 of the surgical group reporting the use of urinary pads. Patients treated with SBRT also reported better sexual function after two years than those treated with surgery.
The Expanded Prostate Cancer Index-Short Form (EPIC-26) questionnaire, which is used for measuring health-related of life, was applied here.
At 2 years, 41 SBRT patients reported an EPIC sexual subdomain score with mean of 58, compared with 30 surgical patients who reported a mean score of 29.3.
While moderate or serious bowel problems were not reported by many men in the study, those treated with SBRT were more likely (16%) than surgical patients to report minor problems (0%).
At two years, 46 of those treated with SBRT and 31 of those treated with surgery responded to this query, with 7 of the SBRT cohort reporting a moderate/serious problem with bowel symptoms and none of the surgical cohort reporting problems.
In the PACE-A trial, patients were treated with SBRT delivered in 5 sessions over 1-2 weeks or surgery, either laparoscopic or robotically assisted prostatectomy.
Professor Nicholas van As, MD, Medical Director and Consultant Clinical Oncologist of The Royal Marsden NHS Foundation Trust and Professor in Precision Prostate Radiotherapy at The Institute of Cancer Research, London and lead investigator of the trial, said: "This world-first study reveals that SBRT, an advanced form of radiotherapy now widely available across the UK, is often kinder and can mean less long-term side effects than surgery for prostate cancer patients. One of the biggest concerns for men I see in clinic ahead of treatment for prostate cancer is whether it will make them incontinent, and many worry about the impact on their sexual function too. While there is a risk both SBRT and surgery will cause problems, these results suggest SBRT is less likely to. Going forwards, these results should support clinicians in facilitating important discussions with prostate cancer patients about whether to opt for SBRT or surgery, helping them make an informed decision based on their individual needs and concerns."  
Seth Blacksburg, MD, MBA, Vice President and Chief Medical Officer Americas region at Accuray said, "Men undergoing treatment for prostate cancer want a highly accurate, effective, and efficient treatment that allows them to get back to their daily lives with minimal-if-any impact on long-term urinary, rectal, and sexual function. The results of the PACE-A study support and expand upon previous important investigations—such as the ProtecT trial published in the New England Journal of Medicine in 2016—and indicate that SBRT can do just that.
Dr. Blacksburg continued, "A large body of evidence highlights the versatility of the CyberKnife platform to effectively deliver SBRT to cure prostate cancer. The system's ability to deliver extremely precise and accurate treatment to a moving target allows physicians and patients alike to feel confident that cancers at various stages of disease are addressed with minimal impact on normal tissue."
At CyberKnife Miami, prostate cancer is one of the diseases we treat the most with SBRT.
It's difficult for our top cancer experts to understand how any doctor, a urologist or oncologist can justify the risks of prostate surgery or other types of radiation therapy which require 42 radiation treatment sessions, when CyberKnife, most often can treat it effectively with just 5 treatments and has much less risk of side effects.
CyberKnife is the most advanced radiosurgery technique available for Prostate Cancer Treatment.
Using image-guided robotics, the CyberKnife can precisely and non-invasively dissolve tumors and other lesions with multiple beams of high-energy radiation, while sparing the normal healthy tissue surrounding the tumor or lesion. This revolutionary prostate cancer treatment has helped save many lives while maintaining patients' quality of life.
How Does CyberKnife Treat Prostate Cancer?
It's a Completely Non-Invasive Prostate Cancer Treatment
The name "CyberKnife" is a misnomer of sorts. Why? Because it's not a knife at all, and there's absolutely no cutting involved. In fact, CyberKnife is a painless radiation treatment that may be an alternative to open surgery in many cases.
Painless with Few to No Side Effects
You can resume your normal activities immediately following treatment. Some patients may experience minimal general side effects, such as fatigue, nausea or headaches but those often go away within the first week or two after treatment.
Cost-Effective and Quick Prostate Cancer Treatment 
Prostate cancer treatment with CyberKnife is performed on an outpatient basis and does not require hospitalization or anesthesia. Each treatment typically lasts only 30 to 90 minutes and it is covered by most insurance companies including Medicare.
Fewer Prostate Cancer Treatments than Standard Radiation
Thanks to its remarkable clinical accuracy, the CyberKnife treats prostate cancer in 5 treatments over 10 days, unlike the low doses of conventional radiation therapy that require 40-45 treatments over the course of 2-to-3 months.
Precise Prostate Cancer Treatment
Cyberknife uses missile-guided radiation technology to target tumors with pinpoint accuracy, delivering radiation directly to the tumor, while leaving healthy surrounding tissue untouched. Because of this missile technology, CyberKnife can track the tumor even when a patient moves or breathes, all without the use of restrictive and uncomfortable immobilization devices.
98% Prostate Cancer Treatment Success Rate 
Many studies comparing the CyberKnife Radiosurgery to other modalities such as IMRT, LDR, HDR, Proton therapy and traditional surgery have shown that CyberKnife Radiosurgery is as effective in the treatment of prostate cancer, with only five treatments, and has fewer side effects than all other modalities.
See our patient stories to read about successful treatments at the CyberKnife Center of Miami. Our staff would be more than happy to discuss the benefits of (SBRT) stereotactic radiosurgery with you. Call CyberKnife Miami today at (800) 204-0455 or you can contact us online.