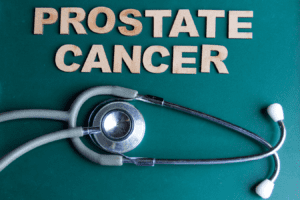 Prostate cancer is treatable and curable for most men diagnosed early with the disease.  Once they are finished with treatment, they leave that period of their lives and their prostate cancer in the rear-view mirror.
However, according to the Prostate Cancer Foundation, prostate cancer can and/or will recur in between one-quarter and one-third of men treated with either surgery or radiation.
For many men with recurrent prostate cancer additional treatment can cure it.  
However some will continue to battle the disease for years – undergoing treatment to manage the disease and its symptoms, according to the experts at the CyberKnife Center of Miami, a state-of-the art cancer treatment center. CyberKnife Miami sees and treats many men with primary, recurrent or metastasized prostate cancer.  
For these men, prostate cancer becomes akin to managing long-term diseases like diabetes or heart disease.
The prostate cancer recurs because the initial treatment didn't kill all the cancer cells or because the cancer cells had already spread without being detected.
Factors That May Determine Recurrence
According to WebMD, there are several indications that suggest prostate cancer has returned or has spread.
Men with cancer cells in the lymph nodes in the pelvic region may be more susceptible to a reoccurrence.
The larger the tumor the greater the probability of the cancer coming back.
The stage of the cancer may predict a future reoccurrence.
The higher the grade of cancer based on the Gleason score (the prostate cancer grading system), the more likely the cancer will return.
Signs of Prostate Cancer Recurrence
WebMD reports men with prostate cancer recurrence may experience the following signs or symptoms:
Difficulty urinating
Blood in urine or semen
Unexplained weight loss
Bone pain

 

Erectile dysfunction
PSA levels rising post-cancer treatment.
Where Does Prostate Cancer Recur
Prostate cancer tends to recur in the prostate or the seminal vesicles (sacs next to the prostate where semen is stored.) It may also spread through the pelvic lymph nodes to the rectum or pelvic wall. And it can metastasize to the bones or other organs.
According to the Prostate Cancer Foundation, when prostate cancer spreads, it metastasizes to the bones in 85-to-90 percent of cases. Treatment goals for metastatic prostate cancer change from curing the cancer to managing symptoms, slowing the growth and shrinking the tumors.
Yet men with advanced disease can outlive their prostate cancers because state-of-the-art treatment options can treat the cancer and extend their lives. 
CyberKnife, which uses a form of targeted radiation known as stereotactic body radiation therapy or SBRT, is one of those options. At the CyberKnife Center of Miami we treat all prostate cancers — from early to metastatic prostate cancers.
Prostate Cancer Treatment Miami
"Years of mounting research is proving CyberKnife to be the gold standard for treating prostate cancer, and as more men learn about CyberKnife, it is becoming the number one treatment of choice," says Dr. Mark Pomper, board-certified radiation oncologist and medical director of CyberKnife Miami.
For patients with metastatic prostate cancer, ones who can't have surgery, failed other treatments or have been told there's nothing left to do – CyberKnife may be a viable treatment.
It is noninvasive.

 

There are no risks of infection or long periods of downtime like there is with surgery.
The CyberKnife radiation beams, which target and destroy the tumor, are exceedingly precise. That means healthy tissue is unharmed.
Treatments are outpatient and last 30 to 60 minutes.
Side effects are minimal and may include fatigue and nausea.
Patients can be treated repeatedly with CyberKnife.
At the CyberKnife Center of Miami, we treat prostate cancer patients every day and have done so for 20 plus years, so we have a tremendous amount of experience and are willing to take on even the toughest cases. That's why many patients from South Florida, around the country and even the world turn to us for care.
Our reputation succeeds us. We put patients first and the word is out about that important aspect of cancer treatment and care.
We help you every step of the way, from getting your necessary scans, to booking your appointments, helping with your insurance, travel plans if necessary. Whatever you need we're here to assist you with. Our goal is to get you treated as easily, quickly, safely and effectively as possible. We not only help our patients, we embrace and help their families get through the cancer treatment process. 
Getting diagnosed with cancer is tough, but we want patients and their loved ones to feel confident and comfortable knowing they are in the best hands possible.
If you would like to find out more about prostate cancer treatment with CyberKnife, at the CyberKnife Center of Miami call us at 305-279-2900 or go to our prostate cancer website now for more information www.prostatecancertreatmentmiami.com.
FOLLOW US ON  TWITTER:  INSTAGRAM: AND YOUTUBE: