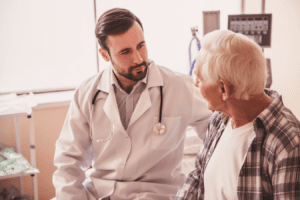 As with most things in life, there is no such thing as a 100% guarantee. Surgery for prostate cancer is no different. According to one study of more than 10,000 men who had their prostates removed between five and 20 years after the surgery 3% died from prostate cancer and 6% had a local recurrence. In another 5% of those patients, the cancer metastasized.
The survival and success rates from surgery for prostate cancer are good – especially when caught early – but again, they are not 100%.
According to Johns Hopkins Medicine, about 80 to 85% of all prostate cancers are detected in the local or regional state when survival rates after treatment are high.  When the cancer is found in stage four – or after it has spread – the five-year survival rate is 28%.
The five-year relative survival rate of prostate cancer is nearly 100%. That means that five years after being diagnosed, the average prostate cancer patient is just as likely as a man free from the disease to be alive.

Based on the same logic, the 10-year relative survival rate is 98%.

And the 15-year survival rate is 95%.
And while survival rates for prostate cancer are high with surgical intervention. The surgery does have risks. According to the American Cancer Society, the risks with any surgical procedure to remove the prostate include:
Bleeding

Blood clots in the legs or lungs

Anesthesia reaction

Infection

Damage to organs that are close by.
And there are side effects as well. Those include incontinence and erectile dysfunction, which men worry about the most. Other side effects are changes in orgasm, loss of fertility, lymphedema or swelling after the removal of lymph nodes, increase risk of a hernia in the groin and a small decrease in penis length because of the shortening of the urethra during surgery.
Prostate Cancer Treatment Alternatives 
The experts at the CyberKnife Center of Miami, a cancer radiation treatment center in South Florida, want you to know you have choices when it comes to your treatment for prostate cancer.  
Surgery is not the only option. 
Treatment with radiation – specifically with the state-of-the-art form of radiation called stereotactic body radiation therapy or SBRT used at CyberKnife Miami – has a high success rate without the side effects of surgery.
"CyberKnife is very, very precise," explains Dr. Mark Pomper, radiation oncologist and medical director of CyberKnife Miami in a YouTube video. "The radiation beams from the CyberKnife systems robotic arm hit the tumor from hundreds of different angles and stay on target even as the prostate or the patient moves while on the CyberKnife table undergoing treatment."
CyberKnife for Prostate Cancer
With CyberKnife because of its precision, there is less risk of radiation to the anus or testicles during treatment. There is also a reduced risk of impotence and urinary incontinence. And sexual function remains the same for most patients after treatment. 
There are also minimal side effects, which may include tiredness, urinary frequency, and rectal irritation. Over the counter medications minimize these, and they usually dissipate in a few days or weeks. 
Here are some other benefits:
CyberKnife has up to a 98% cure rate for prostate cancer.

It is noninvasive. 

There is no anesthesia or cutting. 

There is less toxicity than with traditional radiation.

CyberKnife causes less disruption to patients' lives.

It does not come with the risks of surgery like infection and extended periods of downtime.

CyberKnife treatments are done in

five

radiation therapy sessions over 10 days. That is compared to 42 to 45 over three months with other types of radiation treatments.

Treatments are outpatient and last about 30 minutes. 

Side effects are minimal and may include fatigue or urinary frequency.

Patients can be retreated with CyberKnife.
For patients with metastatic prostate cancer, ones who cannot have surgery, failed other treatments or have been told there is nothing left to do – CyberKnife can be a beneficial treatment option as well. That is why if you are told nothing can be done, or there are no other options, contact a CyberKnife center near you. Talk to the CyberKnife experts, seek out a consultation with them, because often you are a candidate for the treatment, and something most often can be done.
Prostate Cancer Treatment Near Me: CyberKnife Miami
If you or someone you love is diagnosed with prostate cancer, it is always a good idea to get a second opinion from a separate medical facility. 
At CyberKnife Miami, the prostate cancer experts can help you determine what is your best treatment option, whether that is CyberKnife or not. We may concur with what you were advised was the best for you, or recommend something else, then it is up to you to decide. Be your own patient advocate.
We treat patients from across South Florida, the United States and even around the world. If you would like to find out more about prostate cancer treatment with CyberKnife, call us now at 305-279-2900 or go to our prostate cancer website now for more information.