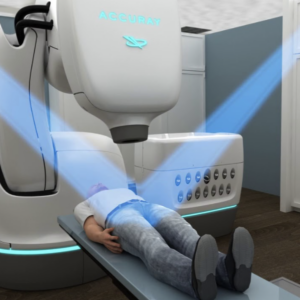 At the CyberKnife Center of Miami, our experts are always asked if there are any long-term side effects as the result of prostate cancer treatment with CyberKnife radiation therapy?
While there is no guarantee with any treatment that there won't be any short or long-term issues, what we can say is that there are often no side effects, less side effects and/or no worse side effects than with traditional radiation, according to Accuray, the maker of CyberKnife.  
In many cases, CyberKnife's precision can significantly reduce the risk of sexual, urinary and bowel function side effects.
CyberKnife uses a technology called Stereotactic Body Radiotherapy or SBRT that is different from traditional radiation treatments. CyberKnife is targeted therapy, meaning it continuously tracks the tumor in real-time so your treatment team can give the maximum dose of radiation directly to the cancer, that in turn minimizes radiation to the surrounding healthy tissue and vital organs.
"Years of mounting research is proving CyberKnife to be the gold standard for treating prostate cancer, and as more men learn about CyberKnife, it is becoming the number one treatment of choice," says Dr. Mark Pomper, board-certified radiation oncologist and medical director of CyberKnife Miami.
A study of more than 2,000 men published in the journal JAMA Network Open in 2019 found: "Stereotactic body radiotherapy for low-risk and intermediate-risk disease was associated with low rates of severe toxic events and high rates of biochemical control. These data suggest that stereotactic body radiotherapy, like CyberKnife is an appropriate definitive treatment modality for low-risk and intermediate-risk prostate cancer."
CyberKnife Benefits for Prostate Cancer
According to Accuray, CyberKnife benefits include:
Excellent long-term cancer control.

A non-surgical and non-invasive treatment.

Fewer treatments over a shorter time frame. 

Lower incidence of sexual, urinary and bowel function side effects.

Patients continue normal activities during treatment.
Side effects of CyberKnife can include tiredness, and urinary or rectal irritation. However, over-the-counter medications help minimize these, and they usually resolve themselves in a few days or weeks. 
"Studies have indicated that prostate cancer cells have a high sensitivity to the amount of radiation delivered in each treatment session. This sensitivity suggests that a larger radiation dose delivered in a smaller number of sessions may result in better long-term control of the disease," according to Accuray.
Long-Term Prostate Cancer Control
The five-year disease-free survival rates for treatment of prostate cancer with CyberKnife are 97%-100% for low-risk patients. That is superior to the 92%-94% with conventional radiation. The disease-free survival rates for intermediate-risk patients using CyberKnife is equal to or higher than conventional radiation.
10 years following treatment with CyberKnife, the disease-free rates were 93% for low-risk patients, which is better than the 81%-85% with conventional radiation.
Second Opinion: Ask about CyberKnife
"If your doctor tells you, CyberKnife is not for you, or will not work for you, do yourself a big favor, find a CyberKnife center near you and talk to the cancer experts there. Get that second opinion because most of the time CyberKnife is the most effective, safest, and quickest way to treat prostate cancer.
Dr. Pomper advises, "If you want to get treated faster yet effectively, safely, and get your cancer treatment over and done with and get on with your life, see if CyberKnife therapy will work for you." 
Prostate Cancer Treatment in Miami
The team at CyberKnife Miami is one of the most experienced, certainly in the region, nationwide and maybe even world-wide. They are the experts when it comes to cancer treatment and SBRT. 
At CyberKnife Miami we have treated thousands of prostate cancer patients in the Miami-Dade, Broward, Palm Beach, and Monroe counties with excellent results. We also continue treating more patients from around the country and around the world as they learn about the vast experience our team has.
Patients are sent to us or come to us because they know we are capable of treating the most complicated and difficult cases. We can do that because we are among the cancer centers that have been doing this the longest. We know what can and cannot be done when it comes to treating cancer, with all treatment options. 
If you would like to find out more about prostate cancer treatment with CyberKnife, or any other type of treatment, call us at 305-279-2900. We can help guide you, giving you the best chance at fighting and beating prostate cancer. 
You can also go to our website now for more information www.prostatecancertreatmentmiami.com.