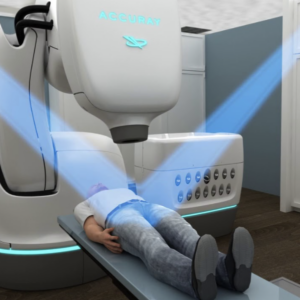 Atlanta-based fertility specialist Mark Perloe, MD, has 32 years of medical experience under his belt. So when he was diagnosed with prostate cancer in March of 2020, he thought he knew what to do. But he is the first to admit that was actually far from the truth.
"When I first started out, I thought I knew enough, which caused me to make some mistakes in regards to what treatment I should get," he said. "Most people—including myself—don't get the information they really need to make good decisions."
Many aren't aware that prostate cancer is one of the most common cancers in men, primarily among those older than 65. About one in eight men will be diagnosed with prostate cancer in their lifetime.
After Dr. Perloe's first treatment was unsuccessful, he decided he needed to work with the nation's best to figure out his next steps. And because his diagnosis came at the peak of COVID-19, he was able to connect with physicians across the country thanks to the boom of telemedicine.
That's how he ended up at UCLA Health, where he signed up for a clinical trial for a PSMA PET scan. This type of scan, co-developed by researchers at UCLA, uses a radioactive tracer that allows for a more precise detection of prostate cancer.
It was through the clinical trial that he learned his cancer had started to spread to other parts of his body. Once cancer has spread, or metastasized, to outside the prostate it can become more difficult to treat.
"As a surgeon myself, I knew I didn't want surgery," said Dr. Perloe. "There are a lot of side effects that I felt I was just too young to deal with—including urinary incontinence and erectile dysfunction. So I decided to look at radiation therapy and started searching the latest research, videos and lectures that were coming out of this field and everything I was finding was leading me to Dr. Amar Kishan at UCLA Health."
Dr. Kishan, the vice-chair of Clinical and Translational Research and chief of the Genitourinary Oncology Service for the department of Radiation Oncology at the David Geffen School of Medicine at UCLA and the UCLA Health Jonsson Comprehensive Cancer Center, specializes in using radiation to treat genitourinary malignancies, particularly prostate and bladder cancers.
Along with running an active clinic, he leads a translational research program and has spearheaded multiple innovative clinical trials in radiation oncology. He is currently the principal investigator on several trials looking at the benefits of MRI-guided stereotactic body radiotherapy (SBRT).
Dr. Kishan is leading a phase III trial of this type of MRI-guided technology system, called MRIdian. Dr. Kishan and team are developing techniques to reduce SBRT side effects through more precise targeting of the prostate. SBRT is a type of radiotherapy for prostate cancer that delivers five precisely targeted doses of radiation
"When treating prostate cancer with external radiation, we need to treat not only the prostate, but a slight margin of tissue around the prostate as well, to account for things like motion," said Dr. Kishan. "With MRI-guided radiation, we are able to monitor the position of the prostate with unprecedented frequency and accuracy, allowing the use of much narrower planning margins than we usually use. We recently showed in a randomized trial that this leads to less bowel and bladder side effects."
Sharing What He's Learned:
In October of 2020, Dr. Perloe traveled out to Los Angeles from Atlanta to begin treatment with Dr. Kishan. After two weeks of radiation, Dr. Perloe's PSA (prostate-specific antigen) levels dropped dramatically. Today, they are so low the cancer is considered undetectable.
"Everyone at UCLA was warm and made me feel that what happened to me during treatment mattered," said Dr. Perloe. "I looked forward each day to greeting the radiation technologists who took the time to answer my questions and to make sure I understood the process. Before starting treatment, I was quite apprehensive about radiation treatment but very quickly traffic on the 405 was the biggest concern."
After treatment, Dr. Perloe, 71, who is now retired, moved to Los Angeles to be closer to his daughter and grandchildren. He also dedicates a large portion of his time to meeting with patients in support groups and encourages men to screen for prostate cancer as well as to follow up on abnormal results.
"While I technically may not be working, I have important jobs that keeps me busy," said Dr. Perloe. "One being promoting prostate education and awareness. Unfortunately, many people and physicians are unaware of the amazing technologic advances that are available when prostate cancer is diagnosed earlier. People are afraid of radiation because they don't understand it."
Along with answering questions on various online groups and webinars, Dr. Perloe throws "Pizza and Prostate" parties for fellow patients who just finished their treatment.
"We hang out, eat homemade pizza and share our stories and just get to know each other," said Dr. Perloe. "I think it's so important that guys get out and tell their stories and let others know that it's not as scary as we're led to believe."
BYLINE: Denise Heady/UCLA Health Sciences
Prostate Cancer Treatment in Miami, FL 
CyberKnife is the most advanced radiosurgery technique available for Prostate Cancer Treatment.
Using image-guided robotics, the CyberKnife can precisely and non-invasively dissolve tumors and other lesions with multiple beams of high-energy radiation, while sparing the normal healthy tissue surrounding the tumor or lesion. This revolutionary prostate cancer treatment has helped save many lives while maintaining patients' quality of life.
The Benefits of CyberKnife for Prostate Cancer Treatment
The benefits of radiosurgery with the CyberKnife far outweigh any potential risks, which are minimal.
Completely Non-Invasive Prostate Cancer Treatment
The name "CyberKnife" is a misnomer of sorts. Why? Because it's not a knife at all, and there's absolutely no cutting involved. In fact, CyberKnife is a painless radiation treatment that may be an alternative to open surgery in many cases.
Painless with Few to No Side Effects
You can resume your normal activities immediately following treatment. Some patients may experience minimal general side effects, such as fatigue, nausea or headaches but those often go away within the first week or two after treatment.
Cost-Effective and Quick Prostate Cancer Treatment 
Prostate cancer treatment with CyberKnife is performed on an outpatient basis and does not require hospitalization or anesthesia. Each treatment typically lasts only 30 to 90 minutes.
Fewer Prostate Cancer Treatments Than Standard Radiation
Thanks to its remarkable clinical accuracy, the CyberKnife treats prostate cancer in 5 treatments over 10 days, unlike the low doses of conventional radiation therapy that require 40-45 treatments over the course of 2-3 months.
Precise Prostate Cancer Treatment
Cyberknife uses missile-guided radiation technology to target tumors with pinpoint accuracy, delivering radiation directly to the tumor, while leaving healthy surrounding tissue untouched. Because of this missile technology, CyberKnife can track the tumor even when a patient moves or breathes, all without the use of restrictive and uncomfortable immobilization devices.
CyberKnife has a 98% Prostate Cancer Treatment Success Rate 
Recent studies comparing the CyberKnife Radiosurgery to other modalities such as IMRT, LDR, HDR, Proton therapy and traditional surgery have shown that CyberKnife Radiosurgery is as effective in the treatment of prostate cancer, with only five treatments, and has fewer side effects than other modalities.
See our patient stories to read about successful treatments at the CyberKnife Center of Miami. Our staff would be more than happy to discuss the benefits of stereotactic radiosurgery with you. Call CyberKnife Miami today at (800) 204-0455 or you can contact us online.