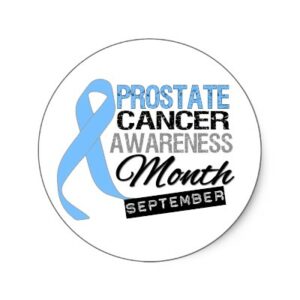 During this month the cancer team at CyberKnife Miami is focusing heavily on prostate cancer awareness.
We're encouraging men to be proactive and get screened for the disease, because it's a lifesaver.
Early onset of prostate cancer often times is asymptomatic. Meaning you have no signs or symptoms of the disease.
The only way to detect prostate cancer early, when it's most curable and easily treated, is through prostate cancer screenings. Such as a PSA test.
Based on factors including your age, family history, genetics and demographics, screenings may be recommended at a younger age and more frequently.
If you have a family history of prostate cancer it's even more important to get screened and screened earlier in life.
If you have been diagnosed with prostate cancer, it's also incredibly important to do your research, look at all your treatment options, not just what your doctor may recommend, because there may or may not be a better prostate cancer treatment plan for you.
One of the most technologically advanced treatment options is CyberKnife Radiosurgery, offered at the CyberKnife Center of Miami. 
It's also one of the most effective, safest, and fastest way to get treated, causing the least disruption to your life because it requires only five radiation treatment sessions, each lasting less than an hour. 
Other types of radiation require 32-to-42 treatment sessions, and surgery of course requires a lot of healing and downtime, which CyberKnife therapy does not.
CyberKnife is a non-surgical, non-invasive cancer treatment. Its ability to deliver radiation with sub-millimeter accuracy to tumors, also spares damage to vital organs within close proximity, so there's much less risk of side effects like incontinence and impotence.
The CyberKnife beams even adjust as the tumor or patient moves and breathes normally, keeping the radiation focused only on its target.
Plus decades of research shows CyberKnife has a 97% cure rate for prostate cancer caught early.
At CyberKnife Miami we have been treating patients for 20 years when we opened our doors in 2003 and are among the first CyberKnife centers in the United States. That makes us among the most experienced CyberKnife teams in Miami and worldwide.
Since then we have successfully treated thousands of cancer patients. 
Our dedicated and compassionate team will hold your hand through the treatment process every step of the way. We take the time to answer all your questions, and your families questions. We want you to feel confident that you are in the most skilled hands nationwide. 
We will even help you navigate through the insurance maze, and take most insurance plans, including Medicare and Medicaid.
If you want to know more about CyberKnife treatment for prostate cancer call us at 305-279-2900. 
CyberKnife may or may not be the best treatment option for you. Our cancer experts will let you know up front. We put patients first. Our goal is to get you treated as effectively, safely and quickly as possible so you can get back to your life and cancer behind you.