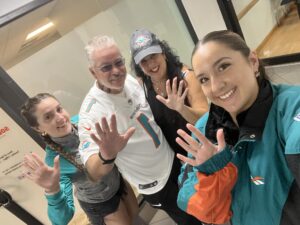 Don Kearns chose 5 CyberKnife radiation treatments the first time he was diagnosed with prostate cancer, and again when it came back 7 years later. No matter what treatment you opt for, there's a 30-to-40% chance the cancer will return. With CyberKnife you can retreat the same area, which you can't do with other types of external radiation. That's among the reasons Don chose CyberKnife a second time. Listen as Don explains why he chose CyberKnife again, how it went and most important, how he's doing now.
As with many men, Don has a very busy, full life and CyberKnife is an effective, less distruptive treatment option.
CYBERKNIFE CUTS DOWN PROSTATE CANCER TREATMENT TIME BY 75%
Other types of radiation for prostate cancer require about 42 radiation treatment sessions. CyberKnife only requires five.
The CyberKnife® System uses an approach called stereotactic body radiation therapy (SBRT), delivering precise doses of radiation with extreme accuracy — and accounting for target motion in real-time.
To achieve this level of accuracy and precision, the CyberKnife uses an image-guided linear accelerator mounted to a robotic arm that was specifically designed to deliver SBRT, combined with industry-exclusive motion synchronization technology that automatically synchronizes the radiation beam with tumor movement in real-time throughout treatment.
This enables the CyberKnife System to maintain sub-millimeter accuracy, which can significantly reduce the risk of the side effects that too often disrupt the lives of men during and after treatment.
Treatment With the CyberKnife: System is a non-surgical, outpatient procedure that does not require incisions or general anesthesia.
Additionally, CyberKnife treatments are non-invasive and avoid the inconvenience and risk associated with radioactive seed or catheter implants.
REDUCED INCIDENCE OF SIDE EFFECTS
The CyberKnife System delivers the required radiation dose to the prostate with sub-millimeter accuracy, significantly reducing the risk of sexual, urinary and bowel function side effects.
A Faster Return to Everyday Life:
With CyberKnife treatment, the majority of men can continue normal activity during and immediately following treatment — compared to the typical requirement to limit normal activity for three to five weeks with traditional prostate cancer surgery. Importantly, patients treated with the CyberKnife System for prostate cancer reported a return to normal urinary and bowel function sooner than with other treatment options.
Your CyberKnife Treatment Process:
INITIAL CONSULTATION
The CyberKnife treatment process begins with a consultation with a radiation oncologist who will provide perspective on this treatment option specific to your condition. The physician will review your PSA, Gleason score, biopsy results, imaging and other medical conditions.
YOUR TEAM
Prostate cancer treatment with the CyberKnife System involves a multi-disciplinary team approach, which may include several specialists:
• Urologist
• Radiation Oncologist
• Medical Physicist
• Dosimetrist
• Radiation Therapist
• Medical Support Staff
PREPARING FOR TREATMENT
Prior to CyberKnife treatment, you will undergo a CT scan, which helps determine the exact size, shape and location of the prostate. An MRI scan also may be necessary to fully visualize the prostate and nearby anatomy.
IMPLANTING FIDUCIALS
Approximately two weeks prior to treatment, a short outpatient procedure is required in which three to four tiny gold pellets – called fiducial markers – are implanted in the prostate. These fiducials are used in many SBRT procedures as imaging reference points so that the tumor can be tracked.
TREATMENT PLAN
About one week after the fiducials are implanted, you will return for imaging and treatment planning. Using CT, MRI and/or PET scan data, your treatment team will determine the area to be targeted by radiation, the radiation dose, and identify critical structures – such as the bowel or rectum – where radiation should be minimized.
The medical physicist will then calculate a precision-optimized radiation delivery plan, leveraging the extreme maneuverability of the CyberKnife System to deliver a safe and accurate treatment.
TREATMENT
Approximately one week after your treatment plan is finalized, you will begin treatment sessions. There are usually 4-to-5 sessions of short duration over 1-to-2 weeks. During treatment, the CyberKnife System's computer-controlled robot will move around your body to various locations from which it will deliver radiation. The System will automatically adapt and synchronize the delivery of the radiation beam with prostate or patient motion. Treatment sessions are non-invasive outpatient procedures, and nothing will be required of you during treatment. No patient restraints. No breath holds. No anesthesia.
POST-TREATMENT
Most patients experience minimal side effects and can quickly return to their daily routines with little interruption to their normal activities during or following their treatment. Your medical team will discuss all possible side effects prior to treatment and may prescribe medication to control any side effects, should they occur.
You also should schedule and attend any follow-up appointments.
If you think we can help you or a loved one, call the most experienced CyberKnife team in Miami at 305-279-2900 for a consultation. We're happy to answer all your questions and make the process of cancer treatment as effective, easy and quick as possible.